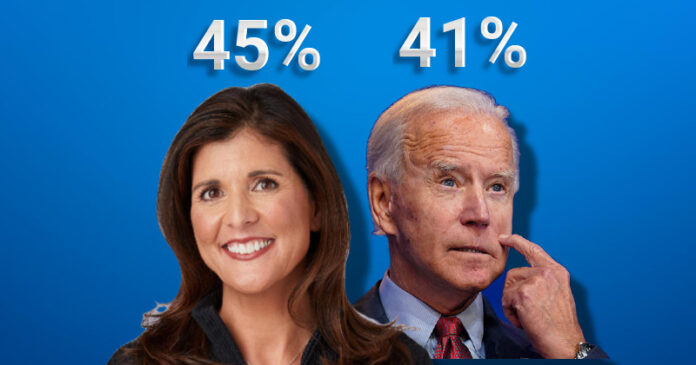 Former South Carolina Governor Nikki Haley made headlines with her presidential candidacy, and a new poll by Rasmussen shows her ahead of President Joe Biden, with 45 percent of voter support to 41 percent for Biden.
According to Rasmussen's results, if the 2024 election were between Haley and Biden, 45 percent of likely voters would vote for Haley and 41 percent would vote for Biden, and 10 percent say they'd vote for some other candidate.
The survey of 900 U.S. Likely Voters was conducted on February 16 and 19-20, 2023 by Rasmussen Reports. The margin of sampling error is +/- 3 percentage points with a 95% level of confidence. Field work for all Rasmussen Reports surveys is conducted by Pulse Opinion Research, LLC.
Yesterday, Haley was interviewed by Maria Baritromo, where Haley asserted that voters across the country aren't content with Biden's administration and Biden's performance as Commander in Chief.
"It's time for a new direction," Haley saieI think we need to leave the status quo of the past. I mean, you look at how America is vs falling into socialism. You look at how… this national self-loathing has taken over our country, and we've got real issues, whether it's $31 trillion in debt, whether it's that our children have fallen so far behind, we don't know how to catch them up, whether it's security and crime on our streets or open borders or the fact that our minds are being closed by woke ideology. The idea that we'd look up at the sky and see a Chinese five alone looking back at us, there's no shortage of issues. But what I will tell you is Americans want more. They want something different, and they want it now, and we can't do enough to make sure that Joe Biden's last days are ahead of him.