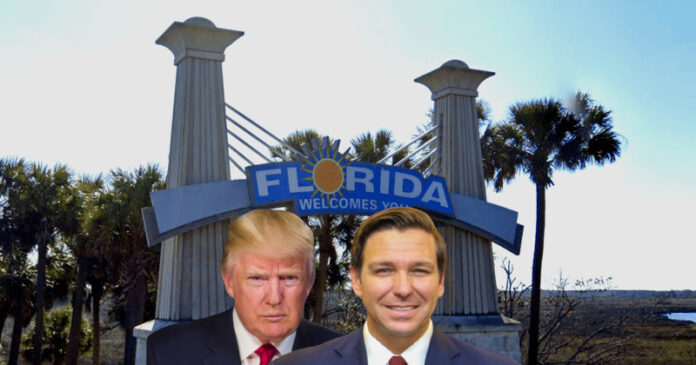 Florida Governor Ron DeSantis leads Donald Trump by 25 points in a recent 2024 Republican Presidential Primary poll conducted by the University of North Florida. News of the notably large margin of victory for DeSantis against former President Trump coincides with data reports indicating taht DeSantis newly released book, "The Courage to Be Free", not only topped the bestseller lists, but sold more copies than similar books by Trump and Barack Obama.
According to the UNF Poll, When given a list of 10 possible candidates, 52 percent of respondents indicated a vote for RonDeSantis, followed by 27 percent for Donald Trump. Nikki Haley came in a very distant third at 4 percent, followed by Liz Cheney with 3 percent and Mike Pence with 2 percent. The remaining candidates each received less than 1 percent. Eight percent of respondents said they do not know or refused to answer.
When asked to choose between DeSantis and Trump in a head-to-head race, 59 percent of registered Republicans said they would vote for DeSantis, with 28 percent for Trump, and 14 percent who don't know or refused.
"It's not too surprising to see DeSantis take the lead among Republicans in his home state of Florida," commented Dr. Michael Binder, PORL faculty director and professor of political science. "But it is interesting to see how his lead jumps up from 25 to 31 points ahead, once you winnow the field from 10 to two. DeSantis is much better compared to Trump at consolidating votes if the field were to narrow."
Adding momentum to DeSantis' likely campaign is the recent launch of a a super PAC named Never Back Down, which is lead by a former Trump official, Ken Cuccinelli. In addition to the launch of the PAC, a group of people familiar with DeSantis' planning told the Washington Post that the organization is likely to serve as an outside spending vehicle for his campaign, and word spread that DeSantis has given indication in private that he plans to run for President after the conclusion of Florida's 2023 Legislative Session.