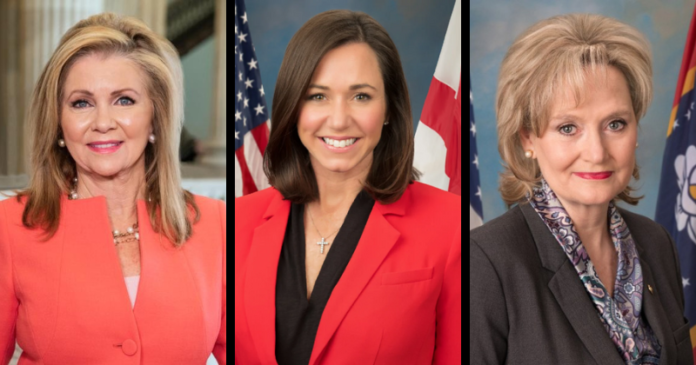 On the same day that President Joe Biden visited the United State's southern border parallel to Mexico, a group of three senators announced their plans to make their own journey to area.
Yesterday, Senators Marsha Blackburn (R-Tenn), Katie Britt (R-Ala), and Cindy Hyde-Smith (R-Miss) issued a statement about their planned journey to evaluate border security during a visit from Jan. 9-10. The Senators will meet with federal, state and local law enforcement to see the impact of undocumented immigrants crossing the border illegally. They will also meet with local landowners and those who have been victimized by drug cartels and human traffickers, often referred to as "coyotes" among residents among border communities.
The three Senators issued a joint statement about the purpose of their mission at the border. An excerpt from the statement reads:
"Under the Biden Administration, drug cartels have been emboldened to take advantage of innocent women and children for sexual and monetary gain," said Senators Blackburn, Hyde-Smith and Britt. Human trafficking has skyrocketed from a $500 million business in 2018, to a $13 billion complex industry. President Biden's failure to secure the border is resulting in countless innocent victims being sexually abused and killed. Over the last two years, drug overdose deaths – largely driven by fentanyl – have become the leading cause of death for adults 18 – 45-years-old. It's time to enforce the rule of law and secure our border."
According to a recent poll by Harris / Harvard, the majority of Americans believe that border security is a major issue for the country. NBC News published a report that the number of known undocumented immigrant crossings at the southern border in fiscal 2022 topped 2.76 million, and the unknown unofficial total includes drug traffickers.