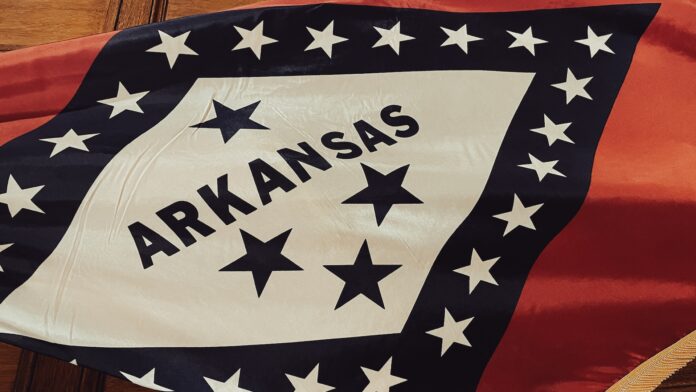 Two state legislators in Arkansas have submitted a bill intended to restrict drag shows to private, adult-only venues for performances. State Senator and Arkansas Sen. Gary Stubblefield and Rep. Mary Bentley's legislation would add "drag performance" to the list of adult-oriented businesses in the Arkansas code, and states that no adult-oriented business may be located on public property or where a minor can view it.
The bill's exact language reads:
"SECTION 1. Arkansas Code § 14-1-302(6), concerning the definition of "adult-oriented business", is amended to read as follows: "Adult-oriented business" means an adult arcade, an adult bookstore or video store, an adult cabaret, an adult live entertainment establishment, an adult motion picture theater, an adult theater, a massage establishment that offers adult services, an escort agency, or a nude model
studio, or a drag performance;
SECTION 2. Arkansas Code § 14-1-302, concerning definitions related to adult-oriented businesses, is amended to add additional subdivisions to read as follows: "Drag performance" means a performance:In which one (1) or more performers:Exhibits a gender identity that is different rom the performer's gender assigned at birth using clothing, makeup, or other accessories that are traditionally worn by members of and are meant to exaggerate the gender identity of the performer's opposite sex; and Sings, lip-synchs, dances, or otherwise performs before an audience of at least two (2) persons for entertainment, whether performed for payment or not; and that is intended to appeal to the prurient interest; and "Minor" means an individual who is less than eighteen years of age.
SECTION 3. Arkansas Code § 14-1-303, concerning the location of adult14 oriented businesses, is amended to add an additional subsection to read as follows: An adult-oriented business shall not be located: On public property; or Where a minor can view what the adult-oriented business is otherwise offering to the public that qualifies it as an adult-oriented business."
NATIONAL MEDIA COVERAGE EXPECTED
In last year's legislative session, Arkansas was the first state in the country to ban gender-affirming care for minors, with concerns including but not limited to decisions from Sweden and other countries which discontinued certain gender-affirming hormone procedures in due to medical risks. Comedian Jon Stewart gained national attention for his interview with Arkansas Attorney General Leslie Rutledge, who made vague references to expert concerns about gender affirming care, but failed to recall specific individuals or institutions. As the debate in the United States continues regarding proper care for gender dysphoria, a condition specified in American Psychological Association's Diagnostic and Statistical Manual of Mental Disorders – Fifth Edition (DSM5), fellow pediatric and psychological organizations in the United Kingdom, France, Australia, New Zealand, Finland, and Sweden are reconsidering the use of hormones and surgeries and calling for rigorous systematic review of available evidence regarding the safety, efficacy, and risks of childhood social transition, puberty blockers, cross sex hormones and surgery.creating a first-in-the-nation law denying gender-affirming care for minors. A lawsuit filed in opposition to the law is currently before the trial judge for a decision.
Vanderbilt University Medical Center paused its practice of gender affirming therapies based on "new recommendations" from the World Professional Association for Transgender Health. VUMC's deputy CEO and chief health system officer C. Wright Pinson said the clinic will be "seeking more advice from local and national clinical experts". VUMC's announcement came a week after Tennessee legislators pressed VUMC's for answers regarding videos of a doctor on staff touting that gender-affirming procedures are "huge money makers", and another video showed a staffer saying anyone with a religious objection should quit.