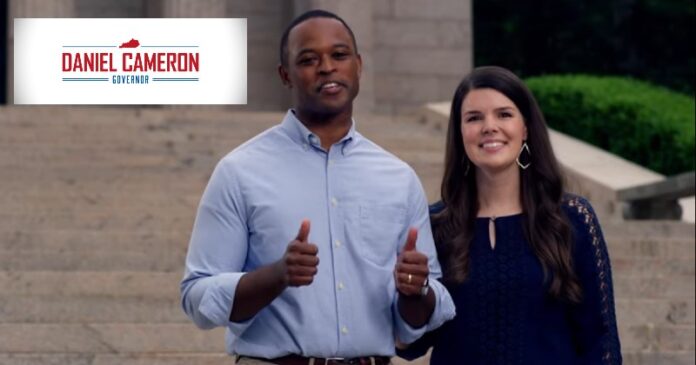 In a race that is sure to draw national attention in 2023, Kentucky's Attorney General Daniel Cameron announced his campaign to become the state's next governor. Should Cameron win the Republican Primary for Governor, he will face incumbent Democratic Governor Andy Beshear.
""We've been in the arena, and we've taken the slings and arrow," Cameron said after he signed the papers to formalize his candidacy. "We've stood up for strong, conservative values and principles. We've never wavered. We've done our job without fear of failing. And I think you need somebody, particularly in today's environment, again, that can do this job with a smile on their face, but will stand for principle."
Cameron has been endorsed by former President Donald Trump and is considered a rising young star in the GOP. As an African American attorney general in a southern state, Cameron will likely enjoy an influx of additional campaign funds from out of the state, which could pose a major challenge for Beshear. In 2019, Beshear narrowly defeated Republican incumbent Matt Bevin by less than one percentage point. A Morning Consult poll showed Beshear's approval rating at around 59 percent, which is high mark heading into re-election, but with so many months until 2023 Election Day, there is still plenty of time for challengers to pull even.
Other Republican candidates vying to become the party's nominee include former Trump United Nations Ambassador Kelly Craft, state Agriculture Commissioner Ryan Quarles and state Auditor Mike Harmon.
Kentucky's voting population is difficult to gauge. Despite the Democratic Party control of the governor's mansion, Kentucky voters have supported two Republican U.S. Senators, including minority leader Mitch McConnell, who relied on Cameron for legal counsel.
Cameron touted his positive relationship with both McConnel and Trump as an example of his ability to rally Republicans to unite for a common cause.
"They [Trump and McConnell] have their differences," Cameron said. "I think what our candidacy means is that we're able to transcend a lot of different factions within the Republican Party and bring people together. And I think that is what ultimately this candidacy represents."