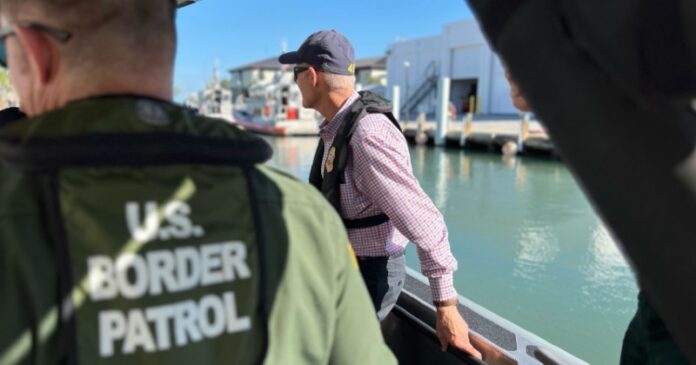 MARATHON, FL – Senator Rick Scott (R – Fla) visited the Florida Keys, including the city of Marathon, where hundreds of Cuban refugees were recently detained and sent back to Cuba after they attempted illegal entry into the United States. During Scott's survey of the area, he met with local, state and federal officials to learn more details about the challenges faced due to the influx of refugees in the region. Scott received a briefing from U.S. Coast Guard Rear Admiral Brendan McPherson, Monroe County Sheriff Rick Ramsay, and Customs and Border Protection's Air and Marine Operations on the local response to the migrant crisis in the Florida Keys.
"Right now, our country is experiencing record-high levels of illegal immigration," Scott said in an official statement. "And what President Joe Biden has done is brought his illegal immigration crisis that he created on our southern border right to Florida's front door. What I heard and saw during my briefing and tour with Sheriff Rick Ramsay, Admiral McPherson, and CBP in the Keys today makes me furious and is absolutely heartbreaking. Our brave law enforcement officers, including CBP agents and Coast Guard, are doing everything they can to keep our communities safe, but this administration has completely abandoned them and left them shorthanded. Every state is a border state, and we cannot allow the communist Cuban regime to weaponize our legal immigration system and take advantage. Florida is an immigration state, we encourage and welcome legal immigration—but it must be done legally. These evil regimes in Cuba, Venezuela and Nicaragua cannot continue to be emboldened by Biden's appeasement and wide open borders. Where is [Director of Homeland Security Alejandro] Mayorkas? Where is Joe Biden? They don't care, but I won't stop fighting to fix this. I'm going to keep showing up, keep holding them accountable and not let up until we secure the border."
Scott's tour of the area followed Florida Governor Ron DeSantis' activation of the National Guard to address the surge of Cuban refugees since the start of 2023.