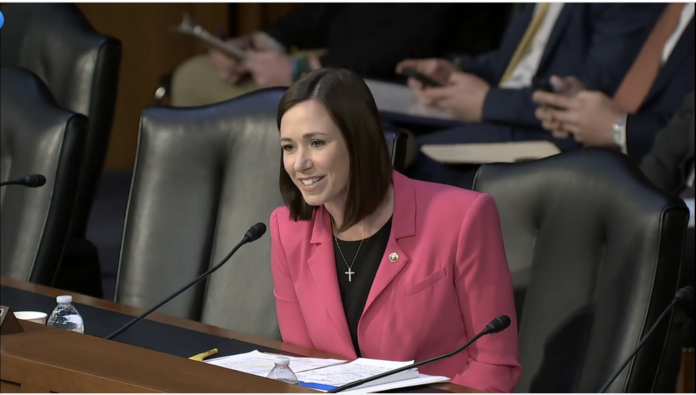 U.S. Senator Katie Britt (R-Ala.), a member of the Senate Committee on Appropriations, announced that she has joined U.S. Senator Cindy Hyde-Smith (R-Miss.), along with 22 additional Senate cosponsors, in introducing a balanced budget amendment to the U.S. Constitution to force the President and Congress to enact annual balanced budgets.
The joint resolution, S.J.Res.13, proposes a constitutional amendment to establish requirements for the submission and approval of annual balanced budgets, including guidelines regarding exceeding spending caps and raising taxes.
"Our ballooning national debt is already an economic and security crisis," Britt. "Just this week, President Biden proposed an unserious budget that would continue to recklessly pile this burden on the backs of our children and our children's children. Alabama families balance their household budgets every day, and we must expect the federal government to do the same. It is past time to hold Washington accountable for runaway, wasteful spending that is fueling inflation and endangering our nation's future."
According to a news release from Senator Britt, the legislation would amend the U.S. Constitution to:
Require the President to submit a balanced budget and Congress to pass a balanced budget
Restrict federal spending to 18% of the Gross Domestic Product
Require two-thirds majority votes in the House and Senate to raise taxes
Require a new three-fifths majority vote in both houses of Congress to raise the debt limit
Original cosponsors of the measure include U.S. Senators John Cornyn (R-Texas), John Thune (R-S.D.), Joni Ernst (R-Iowa), John Barrasso (R-Wyo.), Steve Daines (R-Mont.), Cynthia Lummis (R-Wyo.), Shelley Moore Capito (R-W.Va.), James Risch (R-Idaho), Marsha Blackburn (R-Tenn.), Mike Crapo (R-Idaho), Deb Fischer (R-Neb.), John Hoeven (R-N.D.), Kevin Cramer (R-N.D.), Todd Young (R-Ind.), Ted Budd (R-N.C.), Pete Ricketts (R-Neb.), Thom Tillis (R-N.C.), Roger Wicker (R-Miss.), Bill Hagerty (R-Tenn.), Roger Marshall, M.D. (Kan.), Markwayne Mullin (R-Okla.), and Mike Lee (R-Utah).
President Biden Fiscal Year 2024 budget proposal would raise taxes by $4.7 trillion and see the gross national debt rise to $50.7 trillion by 2033. Senator Britt reacted to that unserious budget proposal in a statement that can be accessed here.
Senator Britt has also cosponsored the Full Faith and Credit Act.