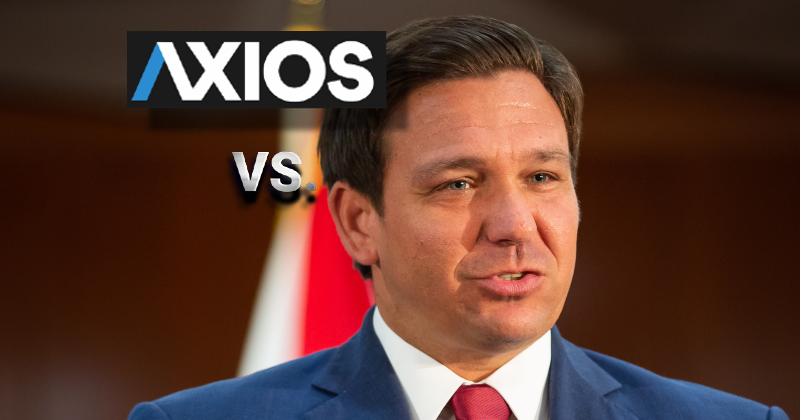 If you wanted to gauge an average college football fan's opinion of Alabama coach Nick Saban, would you create a focus group where nearly 60% of the participants were Auburn fans? Of course not, but that hypothetical focus group's composition is just as illogical as the focus group that Axios consulted to reach its conclusive feature story headline: "Florida swing voters view Ron DeSantis as too extreme."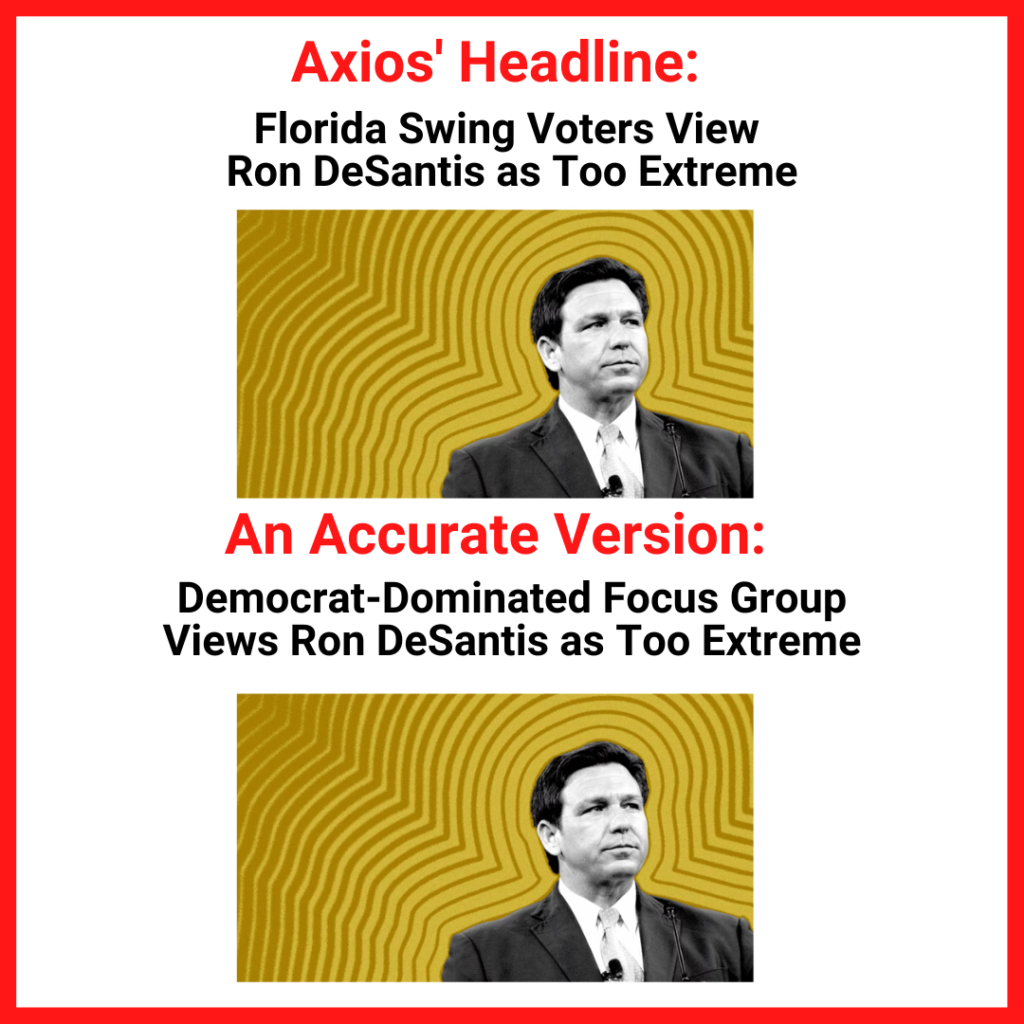 For those unfamiliar with the Sunshine State's current political composition, Republicans represent 36% of Florida voters, while Democrats represent 35% of Florida voters. Minor party registered and independent voters combine to represent 29% of Florida Voters. For reasons not known or declared, Axios' 12-person focus group of "Swing voters", consisted of seven Democrats (58% of the group), four Independents (33%) and ONE Republican. Keep in mind that in recent polls this summer, DeSantis' was favored by 54% independent voters polled vs. Crist.
Republicans have controlled Florida's governor's mansion since 1998, as well as Florida's House and Senate since 1996. Florida trails only Texas for overall population growth since 2010, and lower taxes have been cited among the top factors named by new residents.
WHY IT MATTERS: Axios, which has partnerships on major platforms including Facebook and HBO, bills itself as a quick overview of daily news for busy average Americans. "The world needed smarter, more efficient coverage of the topics shaping the fast-changing world," reads Axios' mission and manifesto page. Compared to MSNBC and CNN, Axios a fledgling media entity much less known among the general public as the aforementioned networks for its left-leaning bias.

Average daily news consumers in America skim headlines and lead paragraphs, and many of those same readers likely aren't aware of the fact that a sample of less than 500 voters in a state with 14 million registered voters, including nearly 4 million with no party affiliation, isn't scientifically significant. Axios' disclaimer reads : "Of note: While a focus group is not a statistically significant sample like a poll, the responses show how some voters are thinking and talking about current events."
While I'll give Axios credit for at lest putting the disclaimer and conceding that the group isn't as statistically significant as a poll, neither of those courtesies change the fact that the focus group they assembled doesn't even attempt to reflect the state's voter demographics.
A sample skewed 7 to 1 rather than a true proportional match is a mockery of any serious attempt to objectively gauge dominant opinions of swing voters statewide. Not only do Republicans have more registered voters, but in Orange County, widely-known as the political barometer of the state's middle class suburban voters, Republican voter registration increased by 2,182 during the past four months, while Democratic Voter registration decreased by 347. This coincided with DeSantis' most polarizing policies, including his call for the special session vote that ultimately put an expiration date for 2023 on the state's existing contract with Disney's Reedy Creek Special District.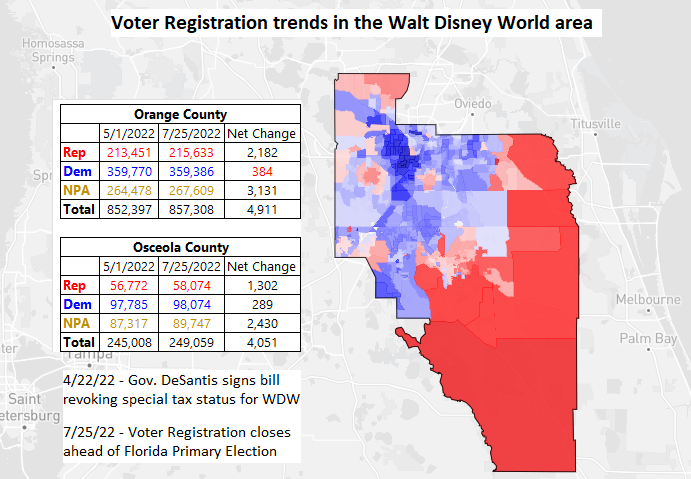 WHO RUNS AXIOS?
Axios was co-founded in 2017 by James VandeHei a former executive editor and co-founder of Politico, along with Mike Allen, who was the chief political reporter for Politico, and Roy Schwartz. Allen's controversial past includes guarantees of "no risk" interviews with Chelsea Clinton and Hillary Clinton.
VandeHei should revisit his own work, particularly his piece from April 19, 2016, titled "Escaping the media crap trap", in which he grieved about the "current vapid state of media, the downward spiral of chasing clicks, and the media's future."
For more stories on Florida politics, visit our Florida political news section.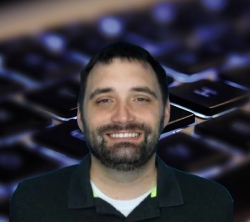 Latest posts by Matt O'Hern
(see all)