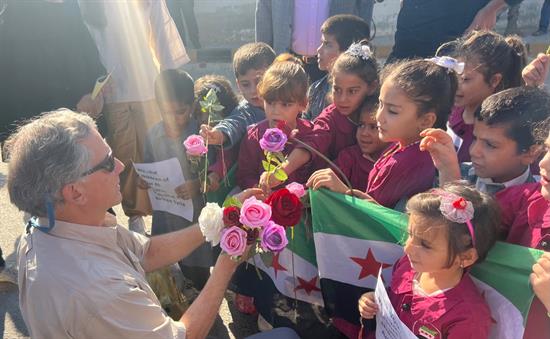 Below is a press release from Arkansas Congressman French Hill.
Rep. French Hill (AR-02) released the following statement after visiting Syria on Sunday morning:
"Over the past seven years, I have worked tirelessly as a voice in Congress for the innocent people of Syria who are being brutally murdered by Bashar al-Assad's regime. I am proud that the Syrian Emergency Task Force (SETF), a non-profit based in central Arkansas, which I represent in Congress, has been a strong advocate in leading humanitarian efforts in the region. Alongside Rep. Ben Cline (R-VA) and Rep. Scott Fitzgerald (R-WI), on Sunday, I had the pleasure of visiting both the beautiful children of SETF's sponsored school for orphans, the Wisdom House, in northwest Syria and their sponsored healthcare residence for chronically ill Syrians, the House of Healing, in Gaziantep, Turkey.
"My trip to the region is a continuation of consultations I have held this year with diplomats and other partners in Israel, Jordan, Iraq, Egypt, Saudi Arabia, and Italy to address the Arab League's initiative to normalize relations with Assad and to discuss the U.S. government's strategy to dismantle the production and trafficking of captagon, as directed by my bill, the CAPTAGON Act. The Assad regime's production and distribution of this illegal drug is threatening regional societies and financially fueling Assad's reign of terror, which must be stopped.
"The Syrian people have endured more than a decade of war, murder, and torture. It is imperative that nations across the globe, including the United States, work together to provide humanitarian aid to the Syrian people and to counter the Assad regime. As a co-chair of the Friends of a Free, Stable and Democratic Syria Caucus alongside Rep. Brendan Boyle (D-PA), I will continue my work in Congress on the issue of Syria and its future. I thank the amazing, dedicated staffs at the Wisdom House and House of Healing for their incredible work in helping the Syrian people and for all Arkansans who support the SETF-backed organizations helping Syrians throughout the region."
Further Background:
Rep. Hill's CAPTAGON Act passed in the Fiscal Year 2023 National Defense Authorization Act (NDAA) and was signed into law in December 2022. On June 29, 2023, the Biden Administration released their strategy in their report to Congress, which can be found HERE.
Latest posts by Press Release
(see all)