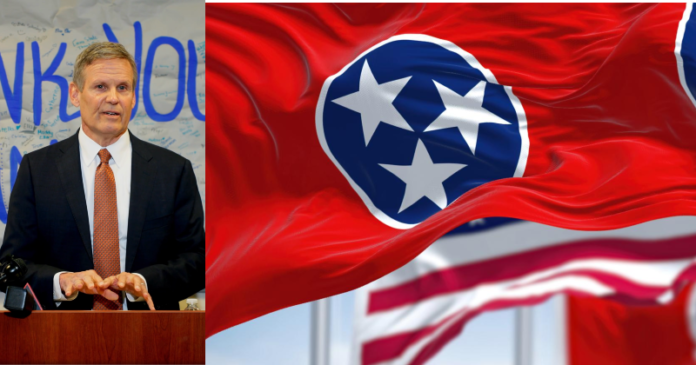 Tennessee Governor Bill Lee broke with party norms and announced his plan to sign an executive order to expand gun background checks. In a Facebook post, Lee wrote:
"I visited with Metropolitan Nashville Police Department & outlined next steps to secure schools & protect Tennesseans. I'm asking the TN legislature to pursue a new "Order of Protection Law" to separate dangerous individuals from firearms, while preserving constitutional rights. I also signed an Executive Order to ensure the existing background check process provides law enforcement with up-to-date information & more closely guarantees the safe, lawful purchase of firearms"
During Lee's speech, he emphasized how challenging the past two weeks have been for the state.
"The past two weeks have not only challenged those who were involved in this from a law enforcement standpoint, it's challenged everything you've seen," Lee said. "The tragedy. The struggle. My family included. Everyone's family. Six innocent lives lost, three of those being children. It has certainly been a stark reminder to all of us about what really matters.I've said before that when you're in a situation like that, the truth is that we're facing evil itself, and we can't stop evil, but we can do something."
Lee went on to outline his vision for new legislation.
"When there is a clear need for action, I think that we have an obligation, and I certainly do, to remind people that we have to set aside politics and pride,and accomplish something that people of Tennessee want to get accomplished. It's been a very emotionally charged couple of weeks, but we have to stay focused on the path forward. Tennesseans are depending on us…It is important to find a way to find a way to remove individuals who are a threat to themselves or society, to remove them from access to weapons. I'm asking the legislature to bring forth, thoughtful, practical measures to do that, to strengthen our laws, to separate those people from firearms, while at the same time preserving the constitutional rights of the people of this state…This newer, stronger, order of protection law will provide the broader population cover, safety, from those who are a danger to themselves, or to the population. Protective orders are led by law enforcement, they have a high standard burden of proof, there is due process that requires clear and convincing evidence. There is a process that a person that has shown that they are a real threat to themselves or to others, that individual shall not possess firearms. Our judicial system is prepared."
New South Politics was founded by Matt O'Hern. Since 2004, O'Hern has worked with political campaigns in roles ranging from nationwide digital marketing for Presidential campaigns to door-to-door canvassing at the local level. O'Hern's journalism experience includes political news reporting and editing for various organizations and news publications in Florida since 2005. O'Hern graduated from Samford University in Birmingham, AL with a degree in journalism and a minor in political science.
New South Politics was created to inform and update voters in southern states on both sides of the aisle about the latest developments surrounding the top political issues surrounding the 2022 Midterm Election and the 2024 Presidential Election. Visit our sister site: 2024Field.com for more analysis on potential candidates.