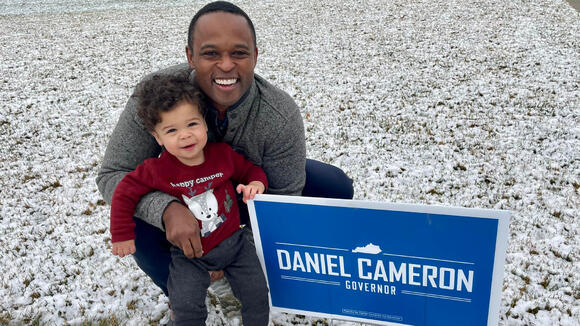 Kentucky Attorney General Daniel Cameron recently produced results from a new poll showing him as the standalone candidate in a crowded field of 12 Republican Kentucky Gubernatorial candidates vying to unseat incumbent Democratic Governor Andy Beshear, who has an approval rating average that has remained above 50 percent in recent months.
Cameron's campaign conducted the poll of 500 Kentucky Republican primary voters via a polling firm named Meeting Street, with a margin of error at a little over four percentage points. According to the poll, 81 percent of the primary voters recognized Daniel Cameron's name and 62 percent of the voters viewed him favorably. An excerpt from a press release from Cameron's campaign reads:
"Across all demographics, and markets, General Cameron is leading the field by a wide margin. Overall on the primary ballot, Cameron sits at 39 percent to his nearest competitor at 8 percent".
The poll does not mention what percentage of respondents have heard of the other candidates, but it does feature favorability ratings for several candidates, with Secretary of Agriculture, Ryan Quarles at 28 percent, former U.S. Ambassador Kelly Craft at 22 percent, state auditor Mike Harmon at 17 percent, Eric Deters is at 10 percent and Somerset Mayor Alan Keck at 7 percent.
The timing of Cameron releasing data from the poll coincides with a report that Craft's campaign has already spent $1 million on advertising.
Cameron made headlines last week when he accused Beshear of violating transparency laws. According to Cameron, Beshear denied a records request for correspondence to or from 13 named officials "mentioning or related to school closures, remote leaning, nontraditional instruction or NTI, KEA or the Kentucky Education Association, JCTA or the Jefferson County Teachers Association" from 2020 to the present. Cameron recused himself from the case, but his office said it's required to adjudicate open records disputes under state law.