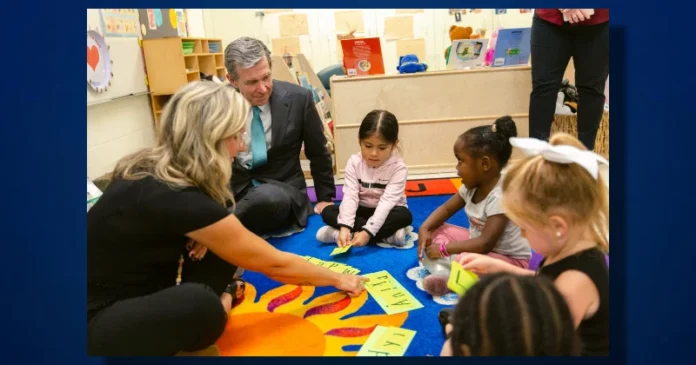 Below is a press release from North Carolina Gov. Roy Cooper regarding funding for Pre-K classrooms.
Governor Roy Cooper is directing $8 million in federal funding to provide a one-time special allocation to all NC Pre-K classrooms to help address classroom needs for the new school year. The NC Pre-K Program operates in every county statewide to provide high-quality early childhood education for eligible children. The Governor made this announcement at Mary Washington Howe Pre-K Center of New Hanover County Schools where he toured the center and called on the legislature to pass a budget that invests in public schools and early childhood education.
"As the new school year starts, we are still waiting on Republican legislators to pass a budget that makes meaningful investments in public education," said Governor Cooper. "NC Pre-K is a highly effective program that provides opportunities for young children to grow, learn, and develop new skills to put them on a path for success in school and this one time funding will help their classrooms right now."
Earlier this year, Governor Cooper proposed an investment in NC Pre-K of $108.3 million for 2023-24 and $199.5 million for 2024-25 to increase the state reimbursement rates for operating NC Pre-K classrooms in child care centers and public schools, provide start-up grants, and serve more children. Insufficient state reimbursement rates, rising startup and operating costs, and recruitment and retention of qualified teachers are key obstacles to NC Pre-K expansion, which currently serves only 52 percent of eligible children. The House and Senate budgets under consideration do not provide a funding increase for the NC Pre-K program despite extensive evidence of the program's effectiveness and a court mandate under the Leandro case to increase state funding and expand the program to serve at least 75 percent of eligible children in every county.
This one-time special allocation can be used for upgrading classroom materials, toys, supplies, playground equipment, supplemental curriculum materials, ongoing facility maintenance needs, mental health support for children and staff, professional development for staff, and other needs. The NC Department of Health and Human Services (NCDHHS) will distribute the funding to provide approximately $3,860 per classroom for the 2,098 NC Pre-K funded classrooms statewide that are serving students this year.
"When we invest in our network of early childhood and NC Pre-K classrooms and teachers, we help strengthen all families and boost our state's economy," said Ariel Ford, the Director of the Division of Child Development and Early Education at NCDHHS. "We are thankful for this federal funding to allow us to continue to create nurturing environments that prepare young children for success in school and life."
Republican legislators have let another week go by without passing a new state budget or separating Medicaid expansion from the budget so it can start. Both the Senate and House budgets provide no meaningful support for critical early childhood education and child care. The Senate budget fails early learners, their families and businesses by providing no state funding for child care stabilization grants or the expansion of Smart Start or NC Pre-K. The House budget proposes only minimal funds to increase the child care subsidy rate and for Smart Start.
Thousands of North Carolinians continue to be deprived of health care access as legislators refuse to separate Medicaid expansion from the budget. Working North Carolinians, including many early childhood educators, fall in the coverage gap. The Governor is calling on legislators to start Medicaid expansion now.
Funding for this new investment in NC Pre-K is from federal Emergency Assistance for Non-Public Schools (EANS) funds that have reverted to the Governor's Emergency Education Relief (GEER) fund.
Read Governor Cooper's budget proposal here.
View Governor Cooper's declaration of a state of emergency for public schools here.
Latest posts by Press Release
(see all)