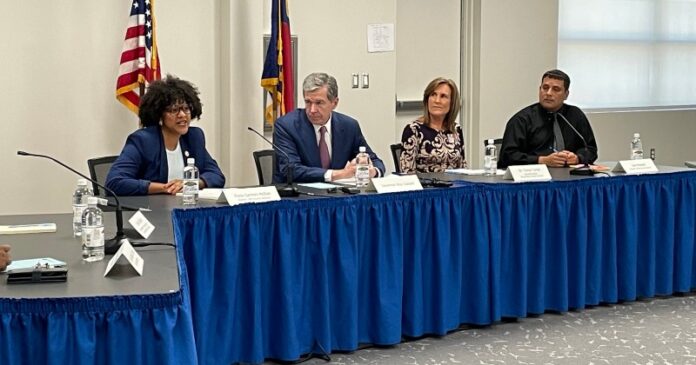 Below is a press release from North Carolina Gov. Roy Cooper.
Governor Roy Cooper hosted a roundtable discussion at the Kathy Taft Center for Leadership and Excellence in Pitt County to highlight the extreme Republican plans to undermine and underfund public education in North Carolina. The Governor was joined by superintendents, school board members, teachers and local elected officials to discuss the disastrous impact Republican legislation would have on North Carolina's public schools and the urgent need for legislators to do their jobs by passing a budget that makes meaningful investments in public education.
"Education leaders across the state continue to speak out against unaccountable private school vouchers for the wealthy that will hurt our public schools," said Governor Cooper. "It's time for a budget that makes meaningful investments in public school teachers and students."
"The private voucher system does not provide a uniform system of education for all students as the options are limited to many children due to the need for transportation, the need for special services, and other needed resources including the ability to receive free or reduced meals," said Perquimans County Schools Superintendent Dr. Tanya Turner. "By increasing the private vouchers, funding provided by our taxpayers for a uniform system of education will be significantly decreased which will greatly impact the quality of education provided by our public schools. Our country has worked hard for equity among all groups of people and public education is the foundation for this to be achieved."
"I am very appreciative of the opportunities brought forth by Governor Cooper to bring these educational issues to the forefront. It is imperative that parents, students, community members and educational stakeholders continue to stay on top of our needs and issues to help us by supporting our efforts, contacting legislators and ultimately making sure we elect officials whose voting records truly reflect support and growth for their communities and districts," said Julio Morales, English as a Second Language Teacher in Hyde County. "The success of public schools is everyone's business if we care to have a promising future for our state."
In May 2023, the Hertford County, Hyde County, Perquimans County and Pitt County superintendents signed onto a letter with other superintendents in the northeast region highlighting the negative impacts that the proposed voucher expansion would have on school districts in their region. As Republican leaders go yet another week without passing a new budget, education leaders in 40 school districts across North Carolina have spoken out against these extreme plans that gut funding for public education.
Republicans have pushed a series of sweeping legislation that would dismantle public education. These dangerous bills would cause public schools to lose hundreds of millions of dollars, worsen the state's teacher shortage and bring political culture wars into classrooms. The proposed voucher program expansion would pour billions of dollars in taxpayer money into private schools that are unaccountable to the public and can decide which students they want to admit. Their plan would expand private school vouchers so anyone – even a millionaire – can get taxpayer money for their children's private school tuition.
Expanding voucher eligibility to any K-12 student will force public schools, especially those in rural and poorer counties, to make steep cuts, leaving schools without the resources to hire enough teachers and support students.
In a special address, Governor Cooper declared a State of Emergency for Education and called on North Carolinians to visit governor.nc.gov to learn more and contact their legislators to ask them to protect public schools.
Latest posts by Press Release
(see all)