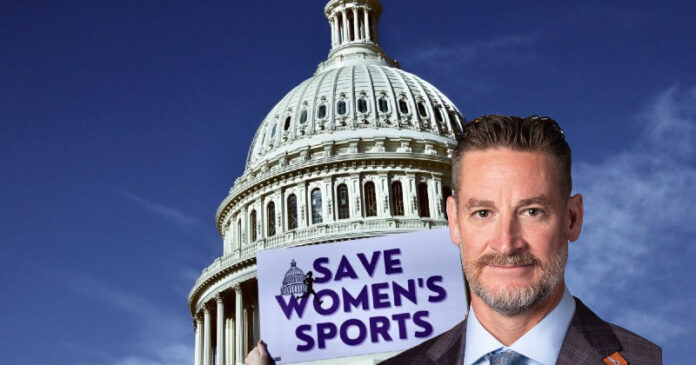 Florida Congressman Greg Steube (R-Fla.) has been a leading vocal critic of biological males participating in women's sports. Last week, Stuebe's bill H.R. 734, known as "The Protection of Women and Girls in Sports Act of 2023″, passed the House Committee on Education and the Workforce committee 25-20, with Republican members voting unanimously in favor.

"I'm thankful to Chairwoman Foxx and members of the Committee on Education and the Workforce for making the safety, privacy, and opportunities of women and girls in sports a top priority for the Republican majority," Steube said in a press release. "The policies of the woke, progressive Left have invaded schools and campuses across America. Allowing biological males on women's sports teams and in their locker rooms creates an unfair competitive environment for female athletes. Americans deserve the opportunity to see where their elected representatives stand on this incredibly important issue. I look forward to voting in favor of this legislation to save women's sports on the House floor very soon."
"Over the past few years, we have seen biological males infringe upon the decades of progress made by female athletes; however, the passage of this bill through Committee is a step in the right direction. Women and girls deserve opportunities to thrive and excel on and off the field, and the Protection of Women and Girls in Sports Act of 2023 will help to protect those opportunities. I commend Rep. Steube for his leadership on this important issue," said Education and the Workforce Committee Chairwoman Virginia Foxx (R-NC).

According to Steube's press release, the legislation allows women and girls a fair playing field in sports by ensuring that school athletics comply with the Title IX recognition of a person's reproductive biology and genetics at birth. This bill ensures that biological females compete against other biological females in women's sports that are operated, sponsored, or facilitated by a recipient of federal funding.

Rep. Steube introduced The Protection of Women and Girls in Sports Act in the 116th, 117th, and 118th Congresses. In the 117th Congress, Representative Greg Steube and former Republican Study Committee Chairman Jim Banks filed a discharge petition for The Protection of Women and Girls in Sports Act where it received 187 signatures.