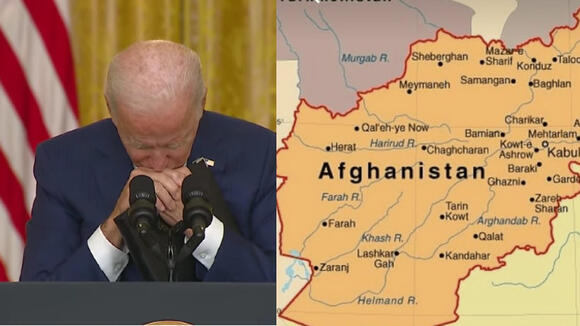 During the House Foreign Affairs Committee hearing on the Administration's emergency evacuation from Afghanistan, Congressman Mike Waltz (R-FL), a Green Beret, condemned the Biden Administration for its callous, incompetent, and disastrous withdrawal from Afghanistan.
"I have never been more proud of my fellow Americans and veterans as I am with this group, but I have also never been more disgusted with my own government," said Waltz. "This was a callous, cold-hearted, incompetent episode on the part of this Administration and it is not worthy of the men and women that we all carry on these bracelets and their sacrifices."
Waltz cited multiple examples, including recent incidents that revealed some of the repercussions of the botched operation. Below are some excerpts from the hearing, provided by Waltz' news release.
"I know this is painful and it is deeply personal, deeply personal to many of us," said Waltz.
Pointing to a photo of one of the Afghan interpreters who Waltz fought alongside of in Afghanistan, Waltz said, "I have here pictures of one of my interpreters, Spartacus, who was beheaded by the Taliban. A young man of only nineteen years old who only wished to come to America as he was literally saving my life."
Pointing to the other photograph, Waltz continued, "I have here a picture of Rahim, who we did manage to get out on the SIV program. I am standing next to him building a well in his village. But you know what, what do the Taliban do when we 'successfully,' since this was such an outstanding 'success,' get these people out? They are hunting down his family. They have captured his cousin, tied him up behind a Taliban truck, drug him through the village, and killed him to say don't you dare work with America or the West again. And they have also beaten his brothers nearly to death."
Waltz went on to question Executive Chairman of Allied Airlift 21, Francis Hoang, and Founder of Task Force Pineapple, Lt. Col. (Ret.) David Scott Mann, on their work to get Americans and allies out of Afghanistan. "You had to basically become your own State Department… because the State Department failed. Is that an accurate statement?" asked Waltz. Mann affirmed.
"This was a failure of leadership at the most senior levels at the State Department and the White House," said Waltz.
Waltz asked if Mann knew veterans who had exhausted their personal savings to help Afghans, exhausted their children's 529 plans, are now heading to divorce, and are thinking of or have committed suicide in the aftermath of the withdrawal. Mann affirmed.
"Is it fair to say these veterans feel betrayed by their government?" asked Waltz. Mann affirmed. "Do you think that added to their moral injury to see the President of the United States calling this an 'outstanding success'?"
In response to President Biden's State of the Union address, Waltz questioned, "Do you think [the fact that] he did not even say Afghanistan hurt them even more?" Mann affirmed.
Waltz discussed suicide rates of veterans rising and the lessons we should have learned from the Obama Administration's withdrawal from Iraq in 2011 without a plan. "They were wrong then and they are wrong now," said Waltz.