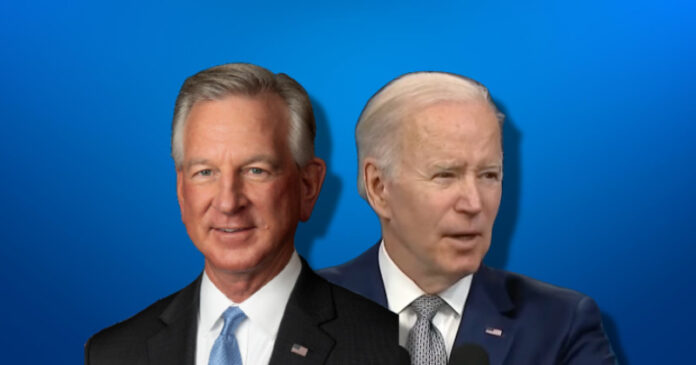 Alabama Senator Tommy Tuberville (R) lead 18 Republican colleagues in reintroducing the "Protection of Women and Girls in Sports Act" to preserve Title IX protections for female athletes and ensure fair, safe competition in women's sports across the country. The legislation would counteract the Biden administration's plans to finalize rules in May that will force institutions to allow biological males to share spaces with females and compete in women's sports.
"Throughout my coaching career, I saw the incomparable success of Title IX and the educational and personal opportunities sports have provided to millions of female athletes." Tuberville said in a press release. "For more than 50 years, this law has empowered young women to grow personally, compete professionally, and receive scholarships to further their education. The positive impacts of a fair playing field in women's sports are unmatched, but the Biden administration is forcing female athletes to the sidelines by allowing biological males to compete where they do not belong. It's unfair, it's unsafe, and it's wrong. We cannot stand by and let girls and women in sports lose to the radical left's agenda. I am proud to introduce this legislation, and will continue fighting to preserve a level playing field for all current and future female athletes."
If signed into law, the Protection of Women and Girls in Sports Act would ensure Title IX provisions treat gender as "recognized based solely on a person's reproductive biology and genetics at birth." It would also ban recipients of federal funding from operating, sponsoring, or facilitating athletic programs that permit a male to participate in a women's sporting event.
The legislation is endorsed by Independent Women's Voice, Concerned Women for America, and Heritage Action for America.
Tuberville's bill was cosponsored by U.S. Senators Mike Lee (R-UT), James Lankford (R-OK), Tom Cotton (R-AR), Marsha Blackburn (R-TN), Roger Marshall, M.D. (R-KS), Ted Budd (R-NC), Kevin Cramer (R-ND), Cindy Hyde-Smith (R-MS), Mike Braun (R-IN), Rick Scott (R-FL), Jim Risch (R-ID), Mike Crapo (R-ID), Bill Hagerty (R-TN), Marco Rubio (R-FL), Joni Ernst (R-IA), Cynthia Lummis (R-WY), Steve Daines (R-MT), and Josh Hawley (R-MO).
New South Politics was founded by Matt O'Hern. Since 2004, O'Hern has worked with political campaigns in roles ranging from nationwide digital marketing for Presidential campaigns to door-to-door canvassing at the local level. O'Hern's journalism experience includes political news reporting and editing for various organizations and news publications in Florida since 2005. O'Hern graduated from Samford University in Birmingham, AL with a degree in journalism and a minor in political science.
New South Politics was created to inform and update voters in southern states on both sides of the aisle about the latest developments surrounding the top political issues surrounding the 2022 Midterm Election and the 2024 Presidential Election. Visit our sister site: 2024Field.com for more analysis on potential candidates.