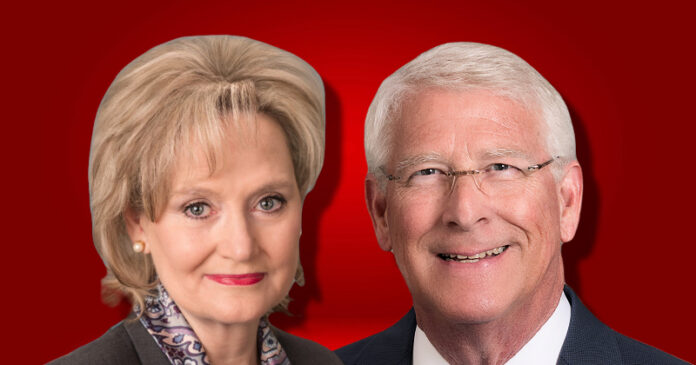 WASHINGTON, D.C. – Mississippi's two Senators Roger Wicker (R) and Cindy Hyde-Smith (R) joined their Republican colleagues in introducing a formal challenge to the Biden administration's Waters of the United States (WOTUS) rule through a Congressional Review Act (CRA) joint resolution of disapproval.
"This rule is yet another government overreach from the Biden Administration that threatens to halt progress on necessary infrastructure projects," Wicker said. "Landowners and businesses need regulatory certainty, and the President has failed to provide it. I am glad to stand with my colleagues in this effort."
Hyde-Smith stressed the additional costs will ultimately be passed on to all Americans.
"The truth of the matter is that this new WOTUS rule will end up costing every American as farmers, ranchers, and industry pay to comply with vast new federal oversight and regulation. Passage of this resolution of disapproval is crucial to stop this deviation from the intent of the Clean Water Act," said.
The CRA was introduced in response to a new WOTUS rule finalized by the Environmental Protection Agency (EPA) and the U.S. Army Corps of Engineers that repeals the Navigable Waters Protection Rule (NWPR) and replaces it with a new rule that will greatly expand federal authority.
Environment and Public Works Committee Ranking Member Shelley Moore Capito (R-W.Va.) introduced the CRA to overturn the Biden administration's WOTUS rule. In addition to Wicker and Hyde-Smith, cosponsors include Minority Leader Mitch McConnell (R-Ky.), Minority Whip John Thune (R-S.D.), John Barrasso (R-Wyo.), Joni Ernst (R-Iowa), Steve Daines (R-Mont.), Marsha Blackburn (R-Tenn.), John Boozman (R-Ark.), Mike Braun (R-Ind.), Katie Britt (R-Ala.), Ted Budd (R-N.C.), Bill Cassidy (R-La.), Susan Collins (R-Maine), John Cornyn (R-Texas), Tom Cotton (R-Ark.), Kevin Cramer (R-N.D.), Mike Crapo (R-Idaho), Ted Cruz (R-Texas), Deb Fischer (R-Neb.), Lindsey Graham (R-S.C.), Chuck Grassley (R-Iowa), Bill Hagerty (R-Tenn.), Josh Hawley (R-Mo.), John Hoeven (R-N.D.), Ron Johnson (R-Wis.), John Kennedy (R-La.), James Lankford (R-Okla.), Mike Lee (R-Utah), Cynthia Lummis (R-Wyo.), Roger Marshall (R-Kan.), Jerry Moran (R-Kan.), Markwayne Mullin (R-Okla.), Lisa Murkowski (R-Alaska), Rand Paul (R-Ky.), Pete Ricketts (R-Neb.), Jim Risch (R-Idaho), Mitt Romney (R-Utah), Mike Rounds (R-S.D.), Marco Rubio (R-Fla.), Eric Schmitt (R-Mo.), Rick Scott (R-Fla.), Tim Scott (R-S.C.), Dan Sullivan (R-Alaska), Thom Tillis (R-N.C.), Tommy Tuberville (R-Ala.), J.D. Vance (R-Ohio), and Todd Young (R-Ind.).
U.S. Representative. Sam Graves (R-Mo.), chairman of the House Transportation and Infrastructure Committee, introduced an identical CRA resolution in the House.
Congress can consider these resolutions using expedited procedures under the Congressional Review Act and can pass it by a simple majority vote.