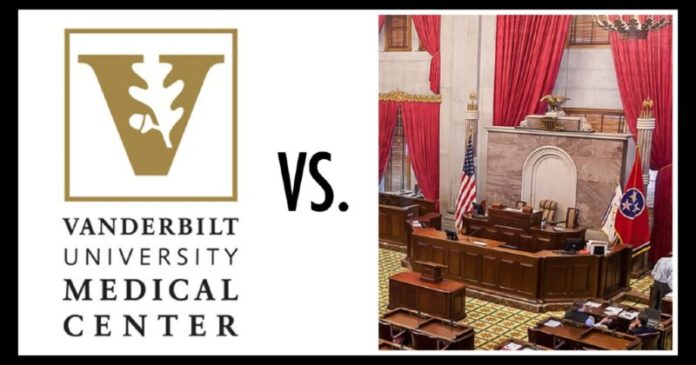 NASHVILLE – Vanderbilt University Medical Center is under fire from more than 60 state legislators due to its practice of gender transition surgery for youth.
"Tennesseans across the state have demanded a swift response and a call to action. We agree that these revelations require the legislature to act immediately," lawmakers wrote, adding that the clinic's practices qualify as "nothing less than abuse." You can read the full letter that was sent to Vanderbilt, here.

Vanderbilt defends its procedures, which it names "Gender-Affirming surgeries". which become a controversial topic not only in the deep south, but even in Europe. In a statement the following day, VUMC said the outlet had misrepresented facts about the care provided to young transgender patients.
"We have been and will continue to be committed to providing family-centered care to all adolescents in compliance with state law and in line with professional practice standards and guidance established by medical specialty societies," the statement reads.
In a viral Twitter thread posted last week, Daily Wire host Matt Walsh said he and his team had discovered that VUMC "drugs, chemically castrates, and performs double mastectomies on minors."
The outlet's reporting also caught the attention of Tennessee Gov. Bill Lee (R), who last week called for an investigation into the hospital's transgender clinic, telling the Daily Wire that the allegations made against the hospital raise "serious moral, ethical and legal concerns."
Last year, Sweden discontinued gender transition services after physicians and medical researchers determined that there wasn't sufficient scientific evidence to support gender transition benefits for youth. Sven Roman, MD and child psychiatrist compared the explosive growth in the number of cases of gender dysphoria to other psychiatric conditions, such as eating disorders and self-harm behavior, that are known to spread with social contacts. He documented the process of discovery that the medical community went through to understand how to best treat these kinds of conditions. Over the past decade, he says research has proven that supportive psychotherapy can reduce or stop self-harm behavior within 3 months. Of the avalanche of gender dysphoria cases being referred, he says:
"Unlike the epidemic of self-harm behavior, (gender dysphoria) care providers are not exploring to find the right treatment. Instead, on a broad front, drastic treatment with high doses of sex hormones and breast and genital surgery is introduced. This despite the lack of any scientific evidence for these treatments for children, and probably not for young adults either."